Aesthetics Award 6th Win
Consultant Plastic Surgeon Dalvi Humzah of Plastic & Dermatological Surgery (PDS) and Lead Tutor and Director of Dalvi Humzah Aesthetic Training has been named as a joint winner of 'The PHI Clinic Award for Professional Initiative of the Year '. They have worked closely with an international group of experts (Aesthetic Intervention Induced Visual Loss AIIVL) to produce a peer reviewed guidance that is incorporated into the teaching that is provided for aesthetic practitioners on Visual Loss Management following the injection of dermal fillers. This is the 6th Award win for Mr Humzah and his team. He was also "Commended" for the introduction of Derma-Seal® in The Barry Knapp Award for Product Innovation of the Year, supported by Medical Aesthetic Group.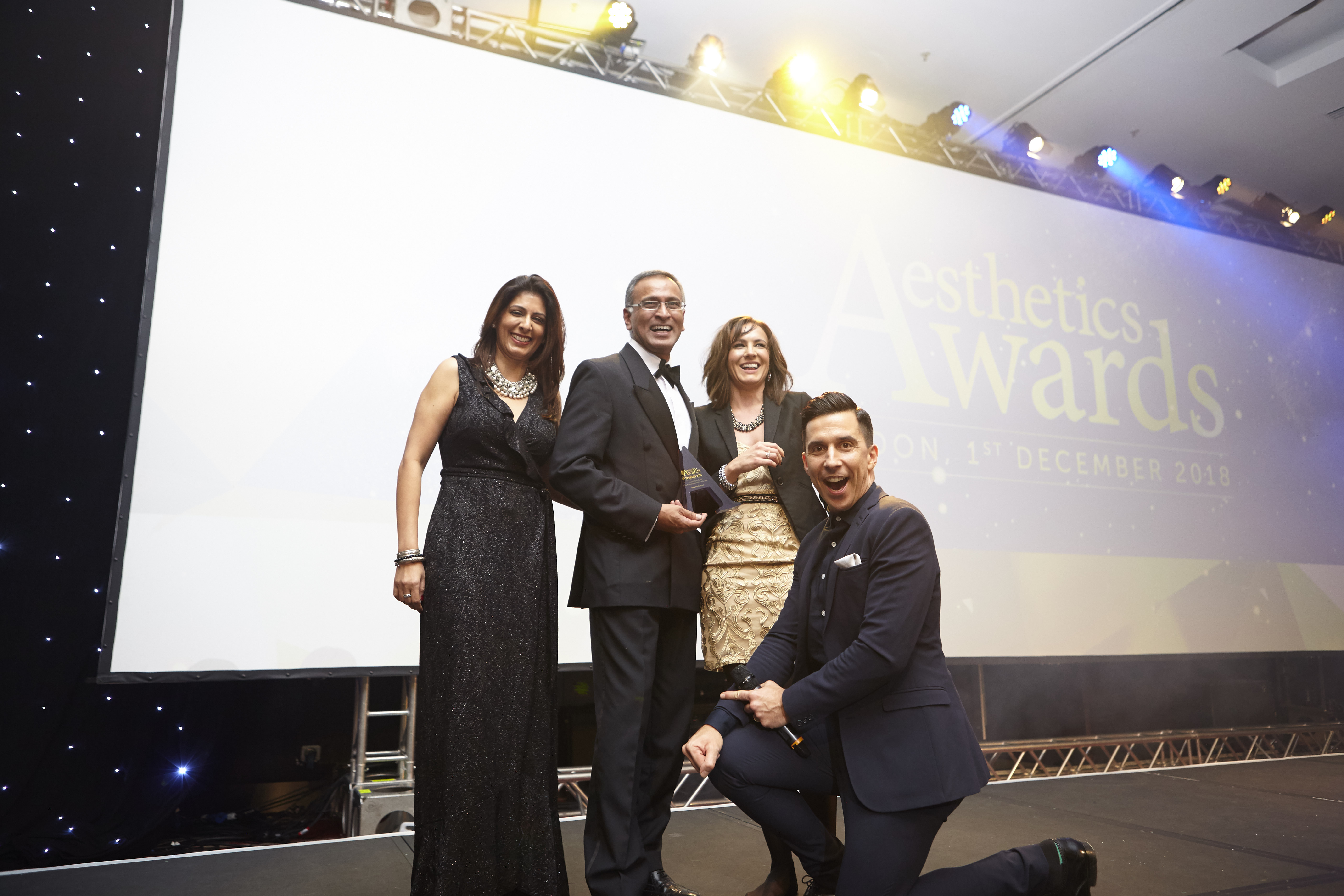 Left to right: Award presented by Mrs G Patel (Co-Director Phi Clinic ), Mr Dalvi Humzah, Miss Anna Baker Tutor DHAT & Russell Kane.
This year there were 9 finalists in one of the most sought-after of 26 categories in this year's awards. The award recognises the important role that both patient-focused and professional campaigns play in promoting consumer education and patient safety. The winner was selected from the finalists using a combination of Aesthetics reader votes and judges scores; their initiative achieved the highest score in this category alongside.
Organised by the Aesthetics journal the Aesthetic Awards is one of the premier awards event for the aesthetics industry, recognising excellence and the outstanding achievements of practitioners, surgeons and suppliers.
He said: "This year has been phenomenally busy with our teaching programmes and incorporating the Visual Loss Guidelines has added to the knowledge base of the Complications Course we run. It is an honour to be recognised consistently for the work that all the faculty within Dalvi Humzah Aesthetic Training do. The awards are a way of highlighting colleagues who are all doing a fantastic job in maintaining high standards and excellence in the industry."
The winners were announced recently at the Aesthetics Awards at The Park Plaza Hotel, Westminster Bridge London on 1st December 2018.
For Dalvi Humzah Aesthetic Training visit www.dhaesthetictraining.org